One of her fondest memories is helping her father, Bruce, take the sheep to the high pasture ranges on the Mendocino National Forest. She'd listen to her dad play the jew's harp and tell wonderful old stories around the campfire at night. Elaine recalls her mother, Ella, was the very last woman in the valley to drive her horse and buggy to town.
As a teenager, Elaine and her classmates rode in all the horse competitions sponsored by the local school district.
"On my first race I rode a horse for someone and I came in last. It was a slow horse and I didn't know how to get the most out of him, either. I just took chances. I rode a better one at the Willits Rodeo one year and almost met my Waterloo. I'd passed one horse and started to reach the one that was in the lead and another rider pulled her horse over in front of mine to cut me off."
A spectator said he saw the rider pull her horse and look back to stop Elaine. But Elaine only remembers waking up in the hospital with a concussion and a broken collarbone. It didn't stop her from riding or raising and training horses, though.
Feisty and independent, Elaine left home when she was 18. She married, had a daughter and a son, and divorced.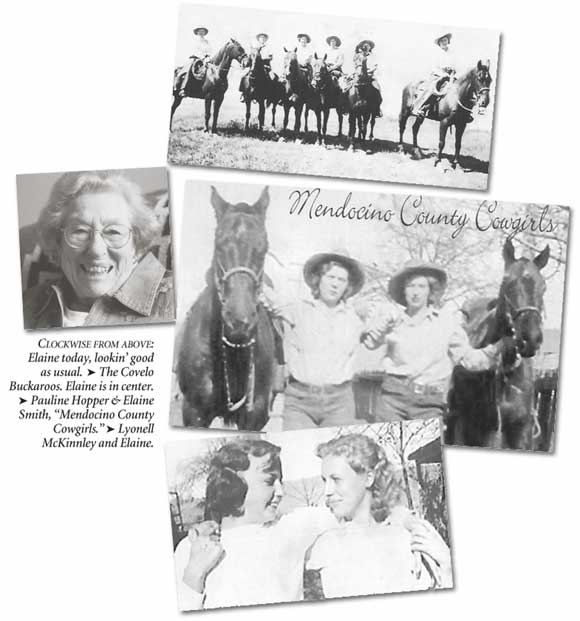 In the 1960s Elaine and her family moved to Reno. She bought a shop that was "just a room." It became the D Bar M Western Shop, and grew under the management of her son Jack Bassett. Elaine remembers a trip to Los Angeles when a waitress asked where she was from. Elaine told her: "Reno."
"Oh," said the waitress. "Do you know that little western store down on Fourth Street?"
Daughter Sonya and her saddlemaker husband Dave Schuler operate a western store, too, Carson City's Hitchin' Post.
"Sonya and I saw this vegetable store in Carson City one day, and it was for rent, so I started making payments and bought it."
She also bought a piece of land that had "not one stick on it." The first building was a barn for their horses. Four years later, the house was built.
At 83, Elaine no longer trains horses. The barn is now rented. Elaine likes her country life that she describes as "comfortable." It hasn't always been that way, but Elaine has no regrets.
"When someone's had the kind of life I've had, most of the time, when you get comfortable, you are gleeful. It changes the whole picture. It's something to be happy about. And I don't get too involved with people that give me crap."—Claire Hurt & Barbara Wies