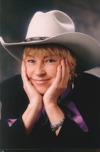 Up Front
Up to my chin in hope. By C. J. Hadley
January 8, 2005, 7 a.m. I opened my front door and was face to face with the top of a snowdrift. The back deck was more protected so I put on snowshoes and headed south towards the barn. In stinging, blinding, blowing snow the Sierra Nevada, a few miles West, could not be seen. Even so, Hoot Gibson and Tim Whitehorse had to be fed.
Halfway out, I toppled off a drift, ending up with head lower than feet, snowshoes buried deep in powder. It was a hell of a trick, landing askew, in a deep, cold featherbed.
No neighbor was stupid enough to be out and I could not move. I hollered anyway, a pathetic ăhelpä taken away by a howling wind. Bones, my 170-pound Great Dane, doesnât like snow but heard my screams and came to my rescue. It was a relief to have that lovely white dog, with his black-eared head barely above the fluff, standing still long enough to help get me out of my fix.
The sliding barn doors were buried so deep they wouldnât budge. I snowshoed over a gate and after an interminable struggle got hay to the horses, checked the heater in their water tank, and shoveled their stalls. They had been standing inside for a very long time. When I got back to the house, Bones and his compadre Bebop were waiting on a sheltered deck. Me, I was plumb worn out.
Friends and neighbors plowed me out three times in 10 days, because a relentless wind drifted me in again and again, with five- and six-foot sculpts that sparkled in an occasional sun.
But it wasnât all bad. I had power, water, heat and food, the thin-skinned dogs were lounging indoors, and I could reach the horses better as my snowshoeing improved. And this issue was due, so I worked from home.
The sight from inside was glorious. The Sierra Nevada was carrying the biggest snowfall since 1917. About 300 inches. We are used to droughts in the West and some ranchers have suffered too long because of them and are on the brink of something awful. Average precipitation in my valley÷at 5,000 feet÷is seven inches a year. Forage on my outfit includes sagebrush, rabbitbrush, desert peach, tumbleweed and some wild grass÷none of which I can see today. But what looked for a while to be bad on this high desert ground is really good. The water table is rising, the country is being nourished. It promises to be a great spring.
There is more good news and information in this issue: Tim Findley is ahead of the curve again with an exposŽ on ăSmart Growthä (p.18); Steve Rich shreds the fallacy of ăPristine Natureä (p.72); Mary Branscomb tells of a Nevada ranch family with deep roots in the West in ăGood Horses & Beautiful Womenä (p.12); and Andrea Paris brings us the story of a high country sheepherder in ăBascoä (p.48). And for more good news see pages 5, 30, 32, 40 and 68.
The snow at my place is rock hard now. Bushes are finally peeping out of the ice and rabbits are eating a very expensive lunch÷all of the low needles on my last-fall-planted six-foot pines. The gates are buried so deep they are impossible to open and my dogs can easily walk across fences. I found black Bebop on Old Highway 395 last Friday night. Tough to see, on a dangerous road, she was happy to see me. So now Iâm leaving the dogs indoors while I go to work in town.
Bones and Bebop have enjoyed time on the bed for the last two weeks, resting on purple sheets, drinking from the toilet, chewing rawhide and sporadically glancing outside. Not a good thing perhaps, but for me itâs better than coming home to find no RANGE mascots÷those massive, loving, comforting, friendly Danes.
And, damn, that snow is perfect. Mother Nature, once again, is offering hope. n
---
This was the day after the first snow, but the relentless barrage continued for days. Bebop at 130 pounds could sometimes walk on top of the snow, Bones couldnât. He occasionally disappeared.

(Photo © C.J. Hadley)